Guides
UTV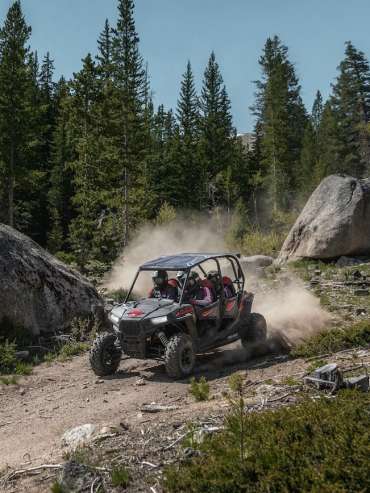 Take a guided UTV tour of the Medicine Bow Mountains, a sub-range of Wyoming's Snowy Mountain Range that includes Medicine Bow Peak, the highest mountain at 12,013 feet.
The Medicine Bow Mountains feature silvery grey summits and patches of snow that last throughout the summer. Along the base of the peaks stretch a string of lakes, each a shining shade of blue, and hillsides and meadows dappled with colorful wildflowers. Wildlife abounds here, as mule deer, elk, moose, black bear, mountain lions, and more call the Medicine Bow Mountains home.
With over 500 miles of UTV trails to explore in the Medicine Bow Mountains, hiring an Albany Lodge guide to show you the best place to ride is the way to go! Our guides know the ins and outs of every trail and will take you to see exactly what you're looking for.
Reserve Online
Additional Details
UTV rentals are not included in the guide fee
Fuel (including guide fuel) is an additional expense and not included in the cost of the guide
Sack lunches are available upon request
Maximum number per guide: 6
Testimonials
Wow! New owners. My first visit in awhile. Prime rib sandwich was great, drinks were just right, service and price were both terrific. Same experience reported by friends visiting last week on a busy Saturday night.
Great location! Access to over 200 miles of snowmobile and OHV trails. Friendly, helpful staff with comfortable accommodations.
Such a fun and magical place. My husband and I decided this place is our favorite, and we've been everywhere! Thanks guys for such a cozy down home atmosphere!
We stopped at this great little spot on our way to camp. The prime rib I had was amazing!! My friends also enjoyed their meals as well. I will definitely stop in again if I'm ever in the area.