Summer
Activities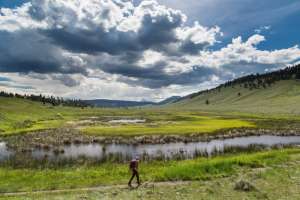 Albany Lodge is your headquarters for summer as we're just miles from great fishing, sightseeing, and abundant wildlife.
At Albany Lodge, UTVing is one of the most popular activities. There is no better way to experience the Snowy Range and all it has to offer than with a UTV.
Rent from us, take a UTV tour, or bring your own ride!
There are over five hundred miles of roads and trails to explore ranging from wide gravel roads to gnarly two tracks. Whether you enjoy hitting a mudhole or going over a rocky terrain, the Snowy Mountain Range is your UTV destination.
There is more than just riding UTV trails in Albany, Wyoming. Fly fish the mountain streams, boat across the high-altitude lakes and reservoirs, or fish the shores of the mighty Platte River. Hikers and bikers love our wide variety of mountain trails, while hunters flock in the fall to bag elk, moose, deer, pronghorn, mountain lions, and bears. Photographers also love it here because it's easy to get the perfect shot of a blue sky, rugged peaks, a moose wading through a marsh, or the aspens' fall colors.
Albany Lodge Summer Activities:
UTVing
Fishing
Hiking
Mountain Biking
Hunting
Photography
Testimonials
Wow! New owners. My first visit in awhile. Prime rib sandwich was great, drinks were just right, service and price were both terrific. Same experience reported by friends visiting last week on a busy Saturday night.
Great location! Access to over 200 miles of snowmobile and OHV trails. Friendly, helpful staff with comfortable accommodations.
Such a fun and magical place. My husband and I decided this place is our favorite, and we've been everywhere! Thanks guys for such a cozy down home atmosphere!
We stopped at this great little spot on our way to camp. The prime rib I had was amazing!! My friends also enjoyed their meals as well. I will definitely stop in again if I'm ever in the area.